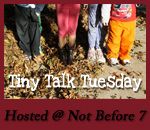 In just a few days, David will
officially
be five and a half, a wonderful age for Tiny Talk Tuesday fodder! :) Like these things that escaped his mouth recently and made me smile...
********
David: "Why do you put slobber on me..." (at this point, I was thinking, "
WHAT are you talking about?!
") "...when my face is dirty?"
Me: "Because that's how mommies clean their babies. Think about cats. And lions. And...and...other animals. They lick their babies to clean them. So when your face is dirty and I don't have water or a wipe or anything else to clean it with, I use my saliva on my finger."
David: "It's called saliva?"
Me: "Yes."
David: "I thought it was slobber."
Me: "Well, saliva is the proper word for it. When I need to clean your face, would you prefer for me to use some of your own saliva on my finger to do it?"
David: "Yes!"
Me (in my thoughts): "Whew, problem solved. Whatever floats your boat, kid." :) And for the record, it's not like I often clean his face this way!!
********
During a dispute (with Tobin, I'm sure...they are currently the Sandpaper Boys, rubbing each other abrasively so many times a day)...
Me: "What did Jesus tell us to do? When someone hits us on one cheek..."
David: "Turn around and hit him on the other cheek??"