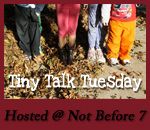 On the morning of Josiah's 8th birthday, Jeff took him along as he climbed Mole Hill (Jeff's favorite prayer spot). As they went along, they enjoyed the beauty of nature, read some scriptures from Jeff's ever-present pocket Bible, prayed,
and
had a little father-son talk: a follow-up to
this conversation
I had long ago with Josiah.
Jeff and I felt like it was time. We wanted Josiah to hear the information from us (meaning, obviously, from Jeff!) before he discovered it in other ways. Jeff wanted the ability to give Josiah some information without going too deep. And so, as they walked, they talked about the birds and the bees.
I was very curious, of course, about how the talk had gone; and I was grateful for Jeff's report about it. The funniest part though occurred when Jeff told Josiah about women's eggs. Josiah was puzzled.
"If women have EGGS," he queried, "how are we mammals?"
I still smile every time I think about it. Smart boy! :)